How is copywriting different from content generation, you're asking yourself.
Why does she have two pages about the same thing on her site?
I'm glad you asked!
Copywriting is the act of writing text for the purpose of advertising or other forms of marketing. The product – called copy – is written content that aims to increase brand awareness and ultimately persuade a person or group to take a particular action.

Wikipedia
What copywriting are you looking for?
| | |
| --- | --- |
| Websites | Landing pages |
| Video scripts | Lead magnets |
| Newsletters | Brochures |
| Emails | White papers |
| Headlines | Presentations |
| Blog posts | Podcast script |
| Product descriptions | Case studies |
| Sales funnels | Social media captions |
| White papers | |
The list goes on!
If something of yours needs to be sold, then I'm the one who's going to get to the heart of the matter and sell your product for you.
Can I see your previous work?
I currently focus on real estate but I'm open to anything.
Here are a few of my clips to give you an idea of what I do: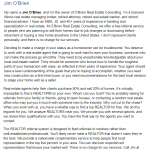 It's okay if you have nothing to work with. I'm going to ask you questions and get to the nitty-gritty of what you want to accomplish, and build on that.
I offer two complimentary revisions!
Sounds good?